Where is Chuck?
The Harrison High School Playhouse presented a spectacular performance of Dear Chuck written by Jonathan Dorf on Friday, November 5, Saturday, November 6, and Sunday, November 7, 2021. 
The Harrison High School fall play was about teenagers trying to find "Chuck"–a character we never really see, we only hear of. Chuck is a metaphor for that feeling of being content with yourself, of knowing who you are. The play started with the actors being stuck in a room, looking for Chuck: a wonderful metaphor for how teenagers feel trapped in their lives and just want to accept themselves again. The play goes on for eighty minutes, with a ten-minute intermission, and short monologues or scenes enriched with metaphors about growing up and discovering yourself. 
"I thought the play was gonna be super serious, but it's super fun and professional as well!" said Cate Latini, a freshman who was part of the backstage crew. The play was very interesting to watch. The stage lighting was spectacular, as well as the use of color. The actors used the large stage to their advantage. Sometimes all actors would be onstage, sometimes there would only be one, sitting on a chair in the corner. Not only is that a great way to draw the audience in, but it also was a way of showing the isolation that teenagers sometimes feel. 
"I believe that theatre should make us think and feel something, not just serve as an escape," said director and theatre teacher Ms. Haberli. "Some of the sadder monologues really spoke to me as well, because I think that everyone is struggling right now. Our world has been shaken up. Sometimes theatre can help us make sense of things when we see our stories, or similar stories, up on stage." 
Some scenes, like the "Teen Shopping Experience" were silly and fun, while others were darker and much more serious, like "Three Rows" or "Please Don't Tell Anyone." 
"Dear Chuck is a coming of age play," said Joey Lipple-Smetana, a freshman who took part in the play. "Finding Chuck is really about finding yourself, and as a teenager, I think we all spend a lot of time exploring ourselves and our identities. Sometimes I really don't know where Chuck is."
The cast and crew were very resourceful. To make interesting props, such as a large door for the scene "It's my room," oversized microphones, or the colorful stage blocks, they used everyday items such as cardboard or paint. The play had been selected by Ms. Haberli because it was composed of small monologues and scenes, which would work well if the play had to go virtual again–which fortunately it didn't. 
The stage blocks were an important feature of the play. They were painted in four colors: red, green, blue, and yellow. They had a close resemblance to the blocks that toddlers play with, which connected well back to the feeling of nostalgia a lot of teens have when thinking about their childhoods. The color and shapes that were always on stage were also an effective way to draw the audience in right from the moment you walk in, piquing your interest. 
The actors did an amazing job. They spoke clearly and concisely. But, all actors know that stage fright is nearly inevitable. It's interesting to see how people deal with it differently. 
"A big part of acting is playing a character," explained Lipple-Smetana. "So to avoid stage fright, I get into character. If I embarrass myself, I'm only embarrassing the character." But not everyone sees stage fright in that manner. Other actors try to think of their happy place, or they take deep breaths before going on stage. Some, like junior Jonathan Choi, don't truly have a way to deal with it. 
"I don't really have a way to deal with stage fright," said Choi. "When you're standing where I have to stand on the stage and the lights are shining directly in your eyes, you can't even see the audience, if there even is one." 
The lights, the mics, the props, were all handled by the backstage crew. They did a spectacular job, with people working the colorful spotlights, making eye-catching props, and tackling the problems that can arise in theatre. 
The soundboard crashed twice during tech week, and there were only eleven body mics for a cast of twenty-two. The lights weren't focused until Tuesday, three days before the show opened.
"Thank goodness our tech crew team was extremely dedicated and stepped up to the challenge!" said Ms. Haberli. 
Many of the crew members were completely new. The HHS Playhouse hadn't had a live performance in two years. Shannon Kenny, senior and stage manager, explained how everyone was learning and adapting to their new environment. Sometimes it would be hard to hear people through the headphones and people would miss their cues off stage, but the cast and crew started working more with the tech and bettered their understanding of how everything worked.
"I'm proud of the mic runners and everyone backstage, as well as the cast for pushing through these hard times," said Kenny. Indeed, everyone who worked on Dear Chuck has something to be proud of. Siobhan Rice, for example, is a freshman who learned how to handle a spotlight. 
"Only a few weeks ago I didn't know how to work a spotlight, but now I actually know how to work the machine and change the colors, which I think is so cool," she said. 
All in all, all of the hard work that went into Dear Chuck certainly paid off. It was witty and funny, serious and engaging. The acting was striking and raw, and none of it could have been done without the backstage crew. 
About the Contributor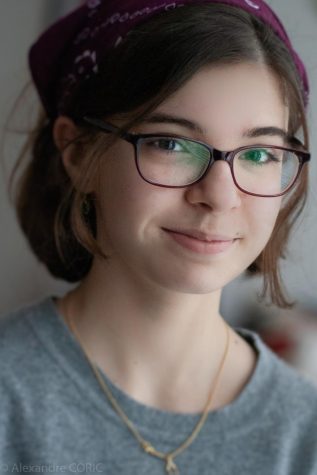 Zoe Coric, Staff Writer
Freshman Zoe Coric is a writer for the Husky Herald. She enjoys reading the New York Times and listening to podcasts like NPR. Her interests lie in all...