January 25: Unmasked
On January 25, 2022 at 6:25 AM, an email was sent by Harrison Central School District (HCSD) with the subject line, "Important Update from the Superintendent: Change to Mask Mandate." The email went on to announce in bold letters, "effective today mask-wearing is optional." This message elicited a range of responses from families all across Harrison; some students were elated at the opportunity to no longer have to wear a mask, while others were terrified by this decision and concerned by the thought of being around other students without masks. 
Prior to this announcement, on January 24, the New York State Education Department issued a statement saying "schools must continue to follow the mask rule," which Harrison ultimately decided to not adhere to, giving students a choice of whether or not to wear masks. HCSD Superintendent Dr. Louis Wool, told The Husky Herald, "As Superintendent, I was required by law to implement the Nassau Supreme Court decision."  The decision Dr. Wool refers to was an opinion issued by Nassau County Supreme Court Judge Thomas Rademaker on January 24 claiming that Governor Hochul overstepped her executive authority by issuing a mask mandate that was not approved by the New York State legislature. 
Dr. Wool went on to say, "I was concerned that not following the law would open up further contention as to why the district follows the law of the mask mandate." Even though there was a lot of dispute over what the law on January 25 actually was, as a majority of districts in New York State opted to continue implementing the mandate, Dr. Wool affirmed that a number of law firms, including the district's law firm, decided that enforcing the mandate was not legally correct. 
Harrison High School Assistant Principals Laurie Griffo and Lawrence Mastrota explained that after Judge Rademaker issued his decision on masks, Harrison administrators convened an emergency Zoom meeting at 9:00 PM on January 24 to decide the official district policy on masks for the following day. 
Since district officials were waiting to see if there would be any legal developments overnight, no official guidance was released until the following morning. The last minute nature of the decision left minimal time for students and staff to consider how they would respond to a mask-optional environment as many people got the notification of the change after already starting their commute to school. 
While the official district policy was to encourage mask wearing, there were mixed messages sent from Harrison High School administrators. Principal Kimberly Beukema, Assistant Principal Laurie Griffo, and other district-wide administrators were seen wearing masks. Mrs. Griffo explained this decision by saying that she wanted to follow the encouraged policy of HCSD. Assistant Principal Lawrence Mastrota opted to not wear a mask. He told The Husky Herald, "After having been vaccinated and boosted, I feel comfortable enough to not wear my mask. By wearing my mask again when it was required by the law, I sent a message to the Harrison community that I will wear my mask when I have to, and I respect the rules we have to follow." 
Similar to the administration, Harrison High School teachers and students were split over whether to wear masks. Some classes had every student wearing masks, while in others, students wearing masks were in the minority. One's individual choice to wear a mask even altered based on whether they were in the hall or in a classroom. 
Harrison High School senior, Luke Wong, was very excited to not have to wear a mask. Mr. Wong told The Husky Herald, "I was happy to take off my mask in order to see the faces of my friends at school and to have an easier time breathing at school. I appreciated that Superintendent Wool gave people a choice in the matter, and I respected everyone's choice, regardless of what it was."
On the opposite side of this issue was Harrison senior Elizabeth Murno, somebody who was concerned that this legal decision came at a bad time for public health. Ms. Murno stated, "January 25 was terrifying for me. I was especially nervous for a lot of the students and staff that I knew were at high risk, especially since no one could ask students to wear their masks no matter the situation. I could not attempt to understand why people took their masks off, because seeing the bottom half of one's face is trivial compared to the safety of our community."
As for what's next, the appeal process is continuing and in the meantime Appellate Division Justice Robert Miller has kept the mask mandate in place. New York's school mask mandate is set to expire on February 21, but the judicial system could remove the mandate before then or Governor Hochul could extend the mandate. 
The issue of masking will definitely be a point of contention in Harrison moving forward. The January 26th Board of Education meeting was filled with a number of speakers against masks. One speaker called Governor Hochul an "unelected demon who wears a 'vaxed' necklace around her neck" and Town Councilwoman Elizabeth Brown referred to masks as causing "emotional abuse." There were no pro-mask speeches during the public comment session, but there certainly exists a substantial portion of citizens in the town who believe that masks mandates in schools are good in the interest of public health.
Dr. Wool is trying to navigate this polarized town dynamic and he reminded The Husky Herald, "People agree on a lot more than they think." Dr. Wool also added, "My job as Superintendent is to make decisions in the best interest of students and to make sure students are healthy and safe. Harrison is working with the state to establish science-based metrics for when it is safe to take masks off. I would love to see our seniors graduate without masks on, but we won't take masks off unless it is safe to do so."
Harrison High School Principal, Ms. Beukema, remains confident in Harrison's "ability to build our understanding of one another when we are willing to respectfully engage in difficult conversations," but only time will tell as new legal decisions are released and debate over this hot button issue intensifies. 
About the Contributor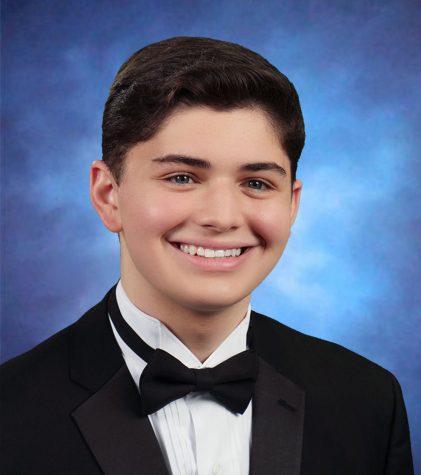 Jack Kelly, Co-Editor-in-Chief
Jack Kelly is the current Co-Editor-in-Chief of The Husky Herald. As a journalist, he loves covering local news and American politics; some of his favorite...