Should You Take The IB Or The AP Program?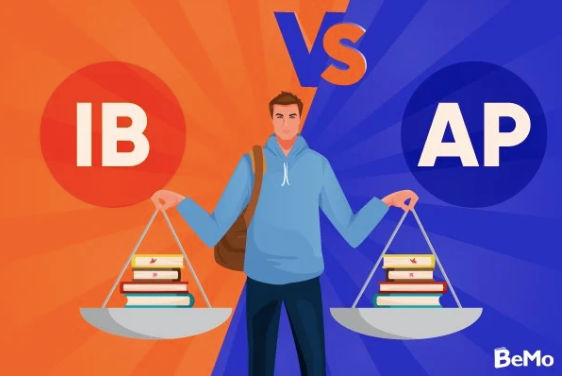 At Harrison High School, many students hesitate between taking the IB program and the AP program—and do not know which is the best fit for them. However, the key to deciding is knowing the difference between the two. 
Fewer than 1,000 schools offer the IB diploma program in the US. We are lucky that the Harrison school district gifts its students with different opportunities. The IB program can be very beneficial to students who wish to go to university abroad. 
The IB diploma program is a two year program that begins when students are 16 and ends when they are 19. According to BeMo Academic Consulting in the article "IB vs. AP: Which is Better for Admissions in 2022", it originated in 1968 in Geneva but was formally started in the USA in 1971. 
It prepares students for college-level coursework. Students must take classes from six areas of study: sciences, mathematics, studies in language and literature, language acquisition, the arts, and individuals and societies. At the end of each class, students will take an IB system and earn points. The assessments are graded out of seven points, hence 42 is the highest total score one could earn. Students who have at least 24 points can graduate and earn an IB diploma. Students also have to finish three core components, which are: theory of knowledge, the extended essay, and creativity, activity, service (CAS). Students have to take at least three courses at high level (HL) to graduate, and the other courses are at standard level (SL). But students are limited to only four HL classes, which is sometimes a reason as to why students don't take the IB Diploma. 
This program might discourage certain students as it is slightly more expensive than the AP program; students pay $119 for every IB assessment they take. But other aspects such as core requirements also include fees. 
However, at HHS we are lucky to have all of those IB tests paid for by the district. 
This program prides itself on helping students understand the process of knowledge, promoting critical thinking skills, and developing student's reading and writing skills. It also has more requirements that often center on global awareness. It is also important to factor in how much time you have with other commitments, as the additional requirements may take up a lot of time. 
Some students agree that IB is more challenging than the AP program because of its emphasis on critical thinking skills and the application-focused tests and evaluations. Although, both AP and IB are considered college-level courses. 
If certain IB classes interest you, you can still take IB courses without taking the IB diploma. 
"And of course, you can't ignore the fact that the IB system is an international model, and the AP is based in the U.S.A. and does not travel beyond the boundaries of the U.S.," stated Principal Beukama. "And that itself opens up a more global world and understanding to students because the curriculum isn't just framed for U.S. understandings, if anything because it originated outside of the U.S. it is far more—to me—based in other parts of the world." 
On the other hand, the AP program is a US based program. It was originally started in the 1950s because people were concerned that US schools weren't providing students with adequate education and skills for college level classes. The AP course is exam-oriented, and focuses on building student's core competencies in different subjects and preparing them for college. It is most gifted and talented students who take this course, to take on more challenging work and get ahead on their college requirements. 
In the past, there has been some controversy surrounding the AP program. Critics claim that the program caters too much to elite schools, that it perpetuates education inequity. Some say that it doesn't actually challenge students enough and isn't comprehensive enough, in terms of study material. But, there have been efforts to modify and better the curriculum to focus on academic and critical thinking skills instead of memorization. The AP Capstone was added in to provide an overarching structure to make the program more cohesive. 
Students can take any of the 38 AP courses from 7 subjects, which are: AP Capstone, the Arts, English, History and Social Science, Math and Computer Science, World Language and Cultures. At the end of each course, students can choose to take the national AP exam corresponding to their class. Exams are scored 1-5, 5 being the highest. Classes are accelerated, thus students are often expected to spend more time outside of class studying and learning. This program is also more common throughout the United States. 
It is less expensive than the IB program—students pay $96 per exam. Some students may also qualify for feed recutions/waivers from either the college board or their school district. 
Both programs have their pros and cons. The IB is very impressive, albeit taking several AP classes could permit for students to earn more college credits and potentially graduate early. 
Colleges don't state which program they prefer. In her article IB vs. AP Classes: Which Should You Take? Whitney Sandoval asserts that "Ultimately, most colleges do not consider AP or IB better than the other. Consider what classes are offered at your school to determine which program is right for you." 
"I feel like the IB system is great, especially to develop critical thinking skills," asserted sophomore Chloe Rooney. But I think it's especially beneficial to students who plan to study outside of the U.S.A. That is why I won't be taking the IB Diploma."
**Picture taken from BeMo