Consumers Should Think Twice About the Importance of Black Friday
Black Friday is the Friday following the Thanksgiving holiday. In the United States, this day also initiates the winter holiday shopping season, such as gift shopping. For shop owners and employees, this means earlier store hours, discounts, limited edition products, and essentially any form of advertisement to attract the most customers possible. In many cases, Black Friday deals commence the week of Thanksgiving for both consumers as well as business owners to make the most out of the special day. In the past, Black Friday has been a fun and thrilling holiday for people all over the country as many of their favorite stores offered unbelievable sales and discounts. However, with the Covid-19 Pandemic still in the mix, it poses a concerning economic threat when the following factors are thrown into the equation. 
According to CNBC, for smaller less stable companies, monetarily speaking, there is much more economic uncertainty when compared to more prosperous businesses. It's been deemed rather likely that the first few months of the new year will drag along an economic slowdown, potentially worsening consumer vigilance. Senior manager of research science at Momentive Investor Relations, Laura Wronski, stated concern that when many customers notice high inflation, it causes them to rethink their purchases based on how far their budget will take them compared to previous years. Typically the spending apprehension is more prominent in lower income individuals and households. When looking at decreased salaries, there is an increase in concern with the costs of goods during the holiday season due to such high inflation. Another trend discussed by Wronski is the factor of age. American consumers in their early twenties to mid-thirties are by far the most wary when it comes to managing and producing enough income to pay for the products they want and that interest them. 
For business owners, it is best to offer as many sales and as many discounts as possible before the new year. Otherwise, extreme amounts of leftover inventory cause retailers to pull back out of fear for a recession. During this past Black Friday, many popular companies such as Macy's brought back sales tactics that were removed during social distancing and the peak of the pandemic. Similarly, JCPenney brought back the doorbusters aspect of the shopping holiday. During the early hours, the store even sold commonly bought products at their "pre-inflation" prices to entice customers to participate in Black Friday this year. The main drawback of this being that consumers may become too accustomed to sales and may only shop when a lower price is offered.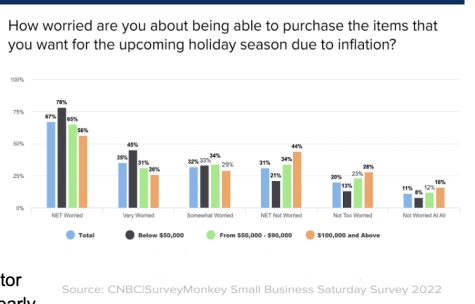 As a result of the Covid-19 pandemic in 2020, consumers and businesses resorted to online stores. Subsequently, Cyber Monday continues to increase in popularity. Most individuals are now accustomed to and have preference over online shopping and its ease and convenience. This past Black Friday, business owners and entrepreneurs used this to their advantage by offering discounts and extremely good sales the entire week leading up to the holiday. Online stores were also used to advertise deals for in-store shoppers only during Black Friday to entice and encourage shoppers to participate that Friday in a desperate attempt to save the economy. Many companies are converting their online stores into apps for easier usage by consumers. This newer transition results in friendly competition between businesses and allows for the creation and production of better and more effective advertising. Thus, helping the economy and reducing the likelihood of a recession.