Urine Town Performance at HHS
Every year, Harrison High School hosts spectacular musicals. But this year's musical was especially intriguing. 
This year, the musical was about a water shortage and its impact on a community who were forced to pay to go to the bathroom. Strange indeed, but it made for an entertaining and thought-provoking musical due to its themes of capitalism and greed and the upper class's power.
"It is a dark, satirical comedy and is honestly one of the strangest shows I've ever done," explained Lucy Neureuther, a sophomore who performed in the musical. 
When asked his thoughts on the plot of the musical itself, Dean Corvino, who played one of the police officers, said, "It's a show about piss. And that's pretty [expletive] weird. You can only imagine the amount of times I've had to explain to others what the show was and just see their confused reactions. But I think after a while I wasn't bothered about it as much and it became really fun to perform." 
Due to HHS's reputation for outstanding musicals, most had high expectations for this musical: Everyone underestimated how good it would be. The whole cast was truly in sync and looked like they were genuinely having fun on stage. 
"Seeing this live made me really happy because I love live theater and I really felt like I was seeing a musical on Broadway because everyone and everything was that incredible," said Gia Ciulla, a freshman. 
This was the first live musical performance since before COVID-19 happened. But COVID-19 still made its presence known in rehearsals. The musical was postponed a whole month so as to not take the risk of anyone in the cast coming out of Winter Break sick. But the resourceful cast saw this as an opportunity to rehearse more and really understand each scene. Social distancing was implemented, especially in the early months of rehearsal, but not to the point of diverging from the source material, such as jokes using physical comedy. 
Masks were also something to consider while rehearsing.
"The mask mandate in normal school hours never really bothered me that much, but being able to take off my mask and perform made a big difference," asserted Dean Corvino. "My voice was way clearer which helped my singing, and I could finally focus on facial expressions which I have been told was a very good aspect of my performance so I'm glad the mandate was lifted when it was." 
A return to live musicals was a relief to all. Many missed being able to see real musicals live on Broadway due to the pandemic. 
"There is something about being in the space with the music, the singing, the performers on stage that simply cannot be replicated on a screen," explained Ms. Haberli, a theater teacher at Harrison High School. "It is an experience that is shared, not just with other audience members—like in a movie,—but with the performers, the technicians, the stage crew… everyone is part of the experience. No two live shows are ever the same. Live theater is always more powerful than recorded theater. I mean… I cried watching Hamilton on Disney Plus—that was a great recording—but the emotional experience is always greater when you are in the room with the performers." 
The show was performed Thursday, March 31, Friday, April 1, and Saturday, April 2. 
"I went on the first night, not expecting to love it as much as I did, and continued to go for the rest of the nights," explained Gia Ciulla. "It was super incredible seeing these kids, some of whom are my age, get up and perform this odd but beautiful musical. I am so proud of every single actor and actress, and I'm so happy that I was able to experience this!" 
About the Writer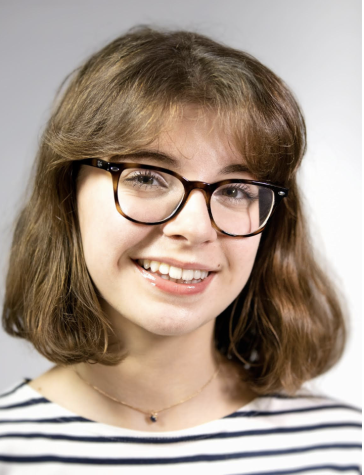 Zoe Coric, Editor in Chief
Sophomore Zoe Coric is proud to be the current Editor-in-Chief of the Husky Herald. She is an avid reader of the New York Times, and loves anything written...