Lizzo Makes History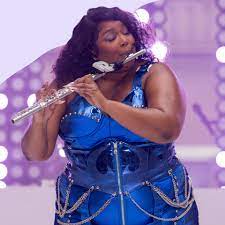 Lizzo is a pop star who is also a classically trained flautist. While she was in Washington, D.C during her North American tour featuring her most recent album, Special, she had the honour of playing a 200-year-old flute that once belonged to the 4th US President, James Madison. 
Carla Hayden, the first female and African American Librarian of Congress, invited Lizzo to come and see the flute collection. With over 1,700 flutes the Library of Congress possesses the largest flute collection in the world. Lizzo enthusiastically agreed to visit and teased what the performance would be about, "IM COMING CARLA! AND I'M PLAYIN THAT CRYSTAL FLUTE!!!!!" Lizzo toured the flute collection and even played a little bit in the historic Reading Room at the library. Some incredibly lucky researchers who happened to be there that day got a preview of the night's concert. On Tuesday night, the night of her live concert in D.C, the glass flute was escorted to the Capital One Arena stage by police officers. Lizzo played a few notes on the famous flute commenting that it felt, " like playing out of a wine glass." Once she finished, she did some of her trademarks twerking. She seemed very excited about being part of this moment in history, shouting to the cheering crowd, "Thank you to the Library of Congress for preserving our history and making history cool. History is freaking cool, you guys!"
History is indeed "freaking cool." The glass flute that Lizzo played was made in 1813 and is engraved with James Madison's name. This particular crystal flute was made by Claude Laurent and was completed in honour of James Madison's second inauguration. There are estimated to be 185 glass flutes by Laurent in the world today. However, crystal flutes are exceptionally rare. While it is "freaking cool"to have anyone in the world play a historical artefact that belonged to a former president, there is something to be said about who the person is. Lizzo is an icon and representation of black, female power. She is authentically herself, and she shows that onstage. 
Overall, there were mixed reviews of the event but the public generally supported Lizzo and her playing the glass flute. Lizzo represents a lot of girls and women who look like her, and she is showing them that they have a place in the world and in the music community. She is showing young, black girls that they have a choice and that they can do whatever they want with their lives. When asked why representation in the media is important, Natalie- Olivia Corn, a ninth grader at Harrison High School, responded, "It is important for young black people to see people that look like them, achieving major things."