Predictions for Upcoming Artists and Genres of 2023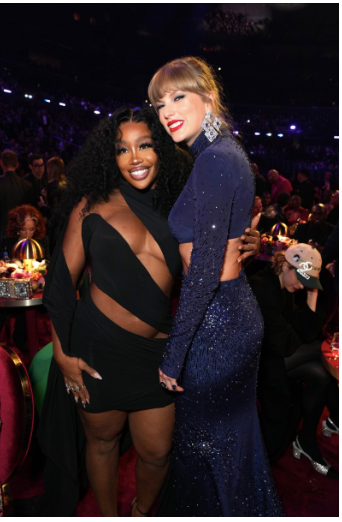 Every month, a new album or single is released. Every year, there's another GRAMMY award show, another world tour, and a new artist coming into the light. Some artists have stayed in the spotlight for years and even decades, while others have made their mark but have chosen to stay out of the spotlight. Their music never dies and the impact it made on someone's life is never forgotten. Considering it is only February of 2023, music fanatics are predicting what top artists are going to prosper this year and maintain the grip they have on the music industry, including A-Lister Taylor Swift, rising star SZA, the underrated Phoebe Bridgers, and the up and coming Lizzy McAlpine.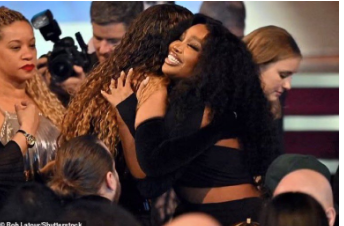 SZA is a young, black, female, R&B artist. On December 9, 2022, she released her new album SOS. Incorporating hints of rap and alternative sounds throughout the album, it is recognized for its variety of genres. According to Annelise Serpa, a sophomore at Harrison High School, "She includes connections to her personal life such as a recurring feature of her Grandma, who is also well known for her affirmations on Ctrl and now SOS." She released her well-known album Ctrl in 2017, but it wasn't until June of 2022 that she released the deluxe version with 7 new songs. Therefore, this new album SOS was highly anticipated and was being talked about well before it was fully released on several social media platforms: primarily Instagram, Tiktok, and Twitter. SZA has released music since 2014 with her debut album "Z". Although her Ctrl album was what really gained SZA popularity, at the time of its release, her concert tickets began at around $100, generally cheap in comparison to the prices now. Following the release of SOS, SZA has gained even more popularity and her concert tickets have increased. Her original fans who have been supporting her since 2014 can't afford the tickets, now going for around $500-1000 dollars. SZA's album will continue to grow, and she is going to become much more involved with mainstream artists, for instance, Beyonce and Lizzo. Upcoming music released by "smaller artists", will grow their platform, a strategy SZA employed with the release of her new album. According to Pop Crave, at the 65th Annual Grammy Awards, "A seat filler at the #GRAMMYS reveals that Beyoncé told SZA how much she loves 'SOS': Beyoncé was like, 'I just love your new album,' and SZA almost fainted." This goes to show that no matter how popular or successful you are to fans or the average person, celebrities have growing goals and dreams. It's reassuring to see them supporting and fangirling over other artists. 
Another enormous artist, Taylor Swift, has always been popular, with nine albums since her debut in 2006. In October of 2022, all top ten songs on the Billboards Hot 100 were from her album, Midnights. Midnights received more listens in a week than her debut had received in sixteen years. Afterward, Swift's Eras Tour concert tickets sold out via presale on Ticketmaster, thus the general sale was canceled. The tickets are now being distributed by third-party websites for upwards of $800. Era's Tour incorporates all of Taylor Swift's albums into one performance to commemorate her past,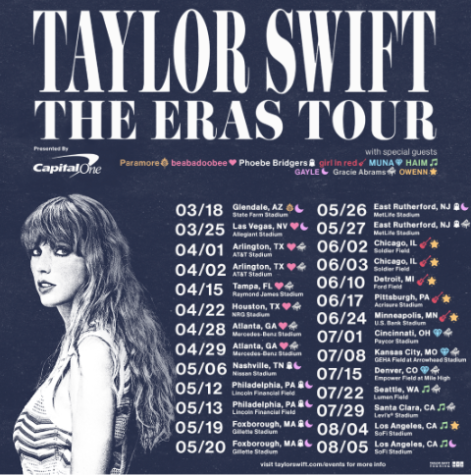 rather than just confining to songs on Midnights, and recognize her development as an artist. Considering that she will be touring the U.S. and Europe beginning this year, insiders can envision that Midnights and all of Taylor Swift's songs will remain popular throughout the rest of the year, especially because of the high demand for tickets. What differentiates Swift from other A-list artists in this generation is her efforts to offer several rising artists the opportunity to open at her shows on tour. This will shed light on these smaller artists and possibly gain them a larger audience, specifically Taylor Swift fans. These artists, such as GAYLE, Gracie Abrams, MUNA, HAIM, Beabadoobee, and OWENN, have already gained popularity because they are touring with Swift. Performing with such a well-known artist in huge stadiums is a great achievement. 
Another artist that exemplifies this is the alternative female artist, Phoebe Bridgers. Bridgers gained popularity in 2017 from the release of her debut album, Stranger in the Alps, and more so now through TikTok. In addition to having the opportunity to tour with Swift, she was granted a feature on the song Ghost in the Machine on SZA's SOS album. Evidently, SOS is so relevant because clashing genres like alternative and R&B are an unexpected mix, yet a song was produced that fans adore. Alternative music is a broad genre, but specifically soft-sung and poetic lyrics are becoming more admirable. Fans can anticipate that Bridgers will gain more popularity throughout the year as she continues collaborating with these artists and releasing more music. Likewise, new artist Lizzy McAlpine has been gaining popularity through TikTok from her song ceilings and doomsday on her album Five Seconds Flat. These songs became popular in late January of this year, but the album had been out for ten months prior.  Five Seconds Flat is going to gain more praise throughout the year as people start listening to the other songs on the album. This form of alternative music will remain popular throughout the year and other smaller artists will take on the genre as it rises in the music industry. 
As music is constantly evolving and developing, it seems logical to want to predict what trends, artists, and styles of music will become and remain popular. When we listen to iconic music from even only ten years ago, we can understand how the industry developed and new artists started changing the game. Music from nearly thirty years ago has a completely different sound and feel than today's music. You can tell what decade music is from due to the substantial differences in musicality, lyrics, and sound. Therefore, in 2023, there are going to be many reforms to the music industry. Time can only tell where these artists will truly stand by the end of the year, but it is reasonable to foresee the progressive emergence of diversity in genres.