Kyrie Irving's Vaccine Status Shaking Up New York
In New York City, coronavirus vaccines have become the new norm. Any person aged 12 years or older cannot eat in a restaurant, exercise at a gym, or participate in any sort of public indoor activity without at least one dose of the vaccine. No matter how rich or famous one may be, these rules still apply to them. This includes basketball superstar, Kyrie Irving. He is currently a point guard for the Brooklyn Nets. According to ESPN, he was a #1 pick in the 2011 NBA draft and has a career average of 27 points per game. This would make him a valuable asset to the Nets; if he was vaccinated. Irving explained that his decision to not be vaccinated is not political; he just isn't particularly comfortable doing so. But in compliance with New York City's local laws, he is not eligible to play at the Barclays Center. General Manager of the Nets, Sean Marks, said, "I think we all know what our objective is this year and how a decision like this maybe affects that ultimate objective." Irving is incredibly talented and could help the Nets win many games, and even possibly secure them a spot in the 2022 NBA Finals. The lack of his participation is detrimental to the team's opportunities. Sophomore Sofia Miller said, "As someone who has been playing soccer on a close-knit team for years, I am willing to take risks if it means I am doing something that is good for my teammates." Whereas Irving's colossal fan base seems to disagree. As reported by The Washington Post, on October 24th, the day of the Nets home opener against the Charlotte Hornets, hundreds of people were seen pushing through barricades to forcefully enter the Barclays stadium, all while holding up signs that read "Stand with Kyrie" and "My body my choice."A handful of protesters were seen repping President Joe Biden, others in "Make America Great Again" hats, and some wearing Black Lives Matter merchandise, all reinforcing the fact that Irving's decision was not political. This only made his beliefs stronger, and he went on to miss 35 games. But then, the Omicron variant arose and vaccinated people began to contract it. The Nets changed their minds; although Irving would still not be allowed to play at home games, he was permitted to participate in away games. Marks said the team was "faced with a roster that has been decimated over the course of the last several days." They were in a crisis, and the only person that could save them was Kyrie Irving. He then made his official debut this season on January 5th, in a game versus the Pacers in Indiana. The NBA recorded that he played a rough first half, but made a comeback and ultimately ended up scoring 22 points, leading the Nets to a close victory by 8 points. Clearly, even after all the time off, Irving is still a beneficial part of his team. Guidelines are changing every day, so there is always a possibility that he will eventually get to play in the comfort of his own city.
About the Writer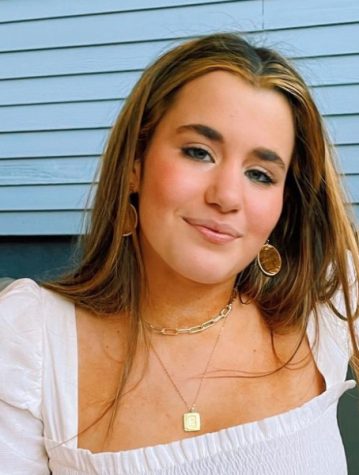 Emilie Oestreicher, Arts & Entertainment Editor
Emilie Oestreicher is the current Arts & Entertainment Editor for The Husky Herald. She has been contributing to the paper for the past two years and...